Hair Restoration
Thinning hair is one of the most upsetting and scary things that can accompany aging. We offer a multi-step approach to diagnose and reverse hair loss with great success in the majority of cases.
Recognizing that each patient is different, the first step is evaluating your hair and checking hormones to see what the root cause might be. Common causes for hair loss are low thyroid, rapid weight loss, nutritional deficiencies, excessively elevated testosterone, menopausal hormone changes, extreme stress and simply genetic predisposition.
In almost all cases, treatment has multiple facets, including optimizing your hormones, adding nutrients (commonly low micronutrients are iron, biotin and others), reducing stress, and using FDA approved oral medications such as minoxidil and finasteride in compounded doses appropriate for women (and we dan also treat men!).
One of the most exciting developments for hair restoration is platelet rich plasma (PRP). In head-to-head studies, PRP has been shown to be more effective than minoxidil, with approximately 75% of appropriately chosen patients experiencing significant hair growth after 3 monthly treatments.
Book Your Consultation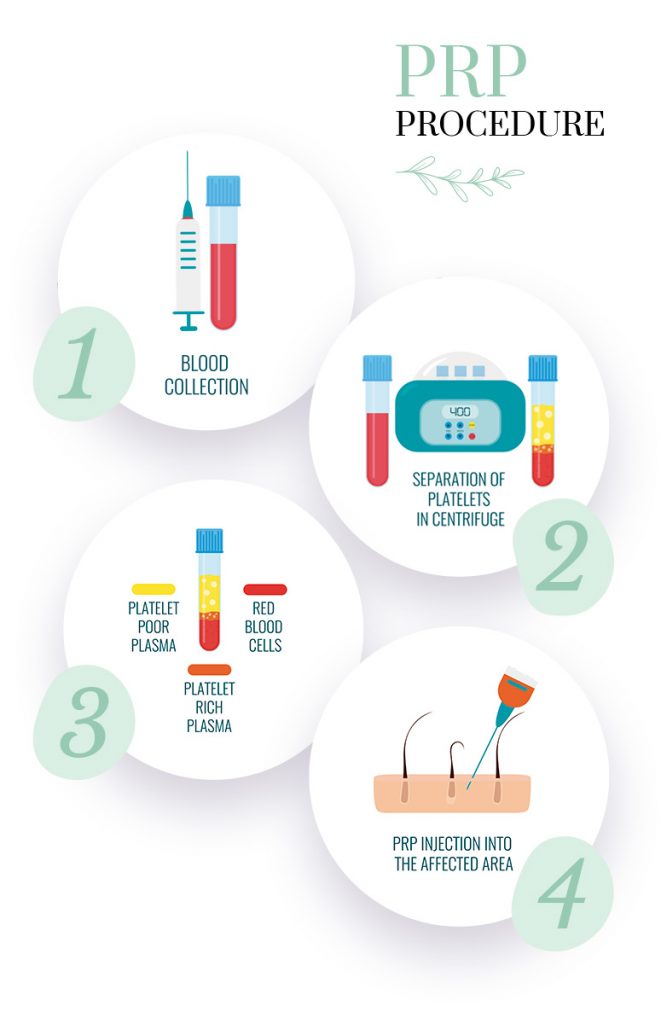 How Does
It Work?
It starts with your own blood, which is drawn just like a regular blood drawn and then spun down to produce platelet-rich plasma (PRP), rich in growth factors and cytokines that can repair and regenerate tissue, blood vessels, and nerves in your body. Some of the growth factors include:
Platelet-derived growth factors
Transforming growth factor-beta
Fibroblast growth factor
Vascular endothelial growth factor
Epidermal growth factor
Interleukin 8
Keratinocyte growth factor
Connective tissue growth factor
PRP is derived from blood taken from your own arm and approximately 10 cc of PRP is injected into the scalp in multiple doses with a tiny needle (think of a Botox or insulin needle) after application of a topical local anesthetic cream. Over a period of weeks, PRP stimulates new blood vessels to grow and support the follicles, causing new hair growth and thinker strands of hair in existing follicles.
While this is a relatively new treatment (research has been ongoing for over 15 years) thousands of patients are already seeing success with the injections. Over 500,000 procedures involving the injection of PRP into various parts of the body have been performed with no significant side effects or complications reported.
Book Your Consultation
Treatment and
Pricing Info
While nothing lasts forever, after 3 monthly treatments most patients will see significant improvement for a year, and annual treatments are recommended along with supportive nutrients and other oral medications.
While some clinics charge up to $2000 per treatment, we want to make this as accessible as possible, and offer the 3-treatment series for $3000, after your initial 30 minute consultation and hormonal evaluation.
Book Your Consultation